What makes a good looking fax?
To achieve optimal legibility and cost-efficient fax broadcasts, it is crucial to adhere to the best design practices for your document. Fax transmission times and costs are kept low when you prioritize readability and simplicity.
Designing a document for fax communication requires a distinct approach compared to web, print, or email publishing. Fax machines operate on audio-based communication and produce prints at approximately one-third the resolution of modern laser printers.
1

Ensure your document's background remains clear of shading, colorized backgrounds, patterns, or large images.

2

For better results, we recommend using sans serif fonts like Arial, Verdana, or Tahoma.

3

For optimal transmission, consider using line art instead of photographs.
Design Tips
1

Opt for a plain white background instead of background shading, solid colors, or extensive background graphics and patterns. Utilizing a solid white background enhances readability, minimizes ink and toner consumption, reduces transmission time, and can potentially lower your overall expenses.

2

Make sure to design your document in the US Letter paper size (8.5″ x 11″) for North America and the A4 paper size (21 x 29.7 cm) for European fax broadcasts.

3

Avoid using grays, colorized elements, or non-true black copy, especially for text. By following these guidelines, you can optimize the legibility and cost-effectiveness of your fax broadcasts.

4

To comply with FCC regulations, make sure to offer a toll-free, or no-cost method for your fax recipients to unsubscribe from receiving future faxes.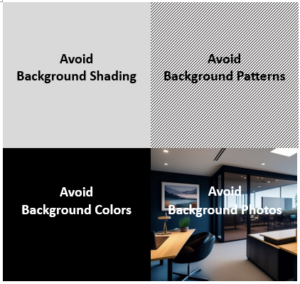 The Fax Header
1-Aug-2023 16:52 UTC     To: Valued Customer (15055551212)     Your Company      p.1
Fax Data Fields
1

Timestamp of the fax transmission in Coordinated Universal Time (UTC)

2

The "To:" header consists of the first 15 characters from the recipient's "TO" column in your fax list. Alternatively, you can use the generic "To" value you provided in the optional details when submitting the order. If you have already provided a value for the "TO" header in the list, entering a value in the order form will overwrite all the values previously provided in your list.

3

The recipients fax number is printed in parentheses after the TO field.

4

You are responsible for providing the From sender identity during each broadcast submission, and it may consist of up to 15 alphanumeric characters.

5

The page number is printed in the fax header of each page in your fax document.